Discover first-hand what it's like to use and be a member of chattusa.com right here. We spent this past weekend trying some of the more obscure adult chat sites that claim to offer online chat rooms without registration.
ChatUSA was one of the top-ranked adult chat sites in search but this was a case where search rank and quality had no correlation!
First, let's look at the grandiose claims of this supposed free adult chat site.
"CHATTUSA is a free online chat room for people all over the world. It helps you meet new people, single women and men and make new friends. We don't log or keep users' data and messages, making Chattusa totally Anonymous and secure."
It seems simple enough, but it is true? And what exactly do they offer as far as video chat for adults? Let's examine it closer.
ChatUSA is a legit site for a chat or just a scam?
Chat USA is a free online chat room site for adults and teenagers around the world. You need to be a minimum of 16 years to use the Chat USA site but most countries that come as a teenager. There is not much verification happening in Chat USA and that's fucking worrisome to see.
We have seen many sites that claim as online chat rooms without registration, but most of them are not worth a shit to use. Chat USA has a decent user interface but the annoying thing is the Ads. It's fucking everywhere and completely spoils the user experience.
Logging in to the chat rooms are much easier than we expected. Here's how it is mentioned,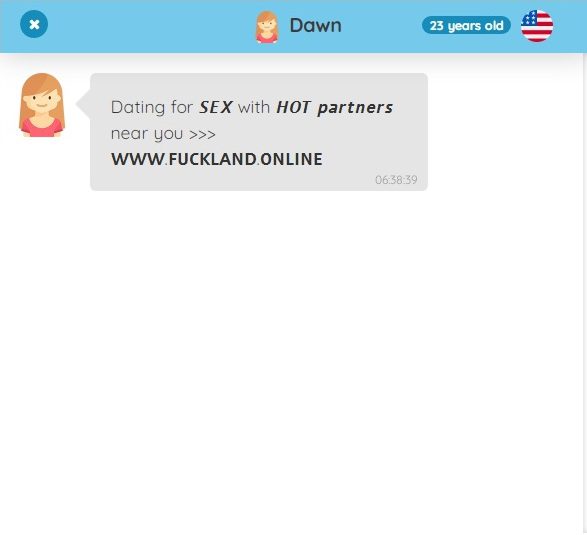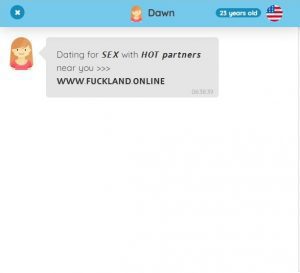 Username – Choose any username of your choice and enter it.
Country – Close to 50 countries are listed and you can choose any country and enter the chat.
Well, pretty sure most of the users tagged themselves from different countries. LIES everywhere from the start.
Age – 16 is the minimum age and 99 is the maximum age we can choose to enter the chat rooms in chat USA.
Gender – Male & Female, two genders are specified for users.
Avatar – Comical avatars to choose while entering the chat rooms. It looks interesting and users get a look at that often.
Login – The login button to this free chat rooms is way below the Avatar section, a huge ad is placed between that.
That's the type of nonsense thing that makes the guest user irritating. It's a fucking clickbait method in the wrong position.
Chat Rules – Here's where we can check out the rules about this free chat room site Chat USA. All looks good in writing but once we enter the actual chat room, the result is different.
Updates – Any technical/feature-based updates about this free chat is mentioned here. The last update was done in October 2019, we can certainly see this free chat room site is not doing much of improvement to the guest users.
ChatUSA Features: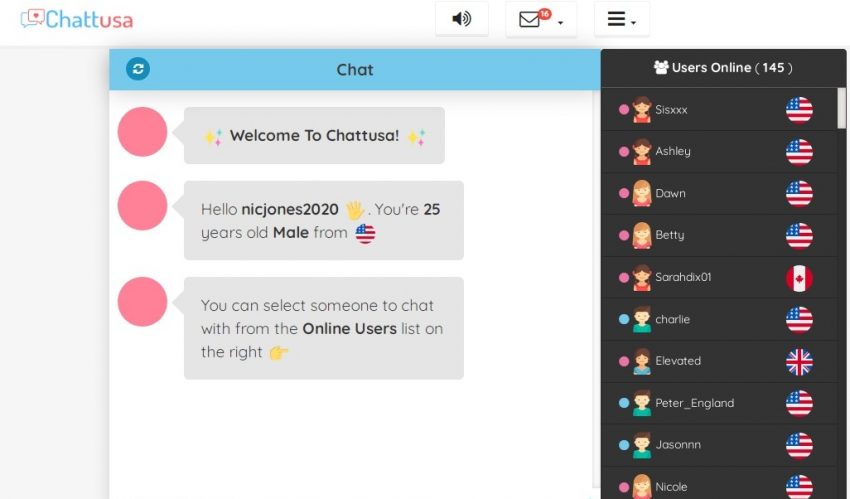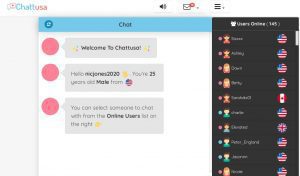 Although Chat USA's free chat rooms said didn't mention anything clearly about the site's purpose, most of the users think it's an anonymous sex chat site.
Well, that's what happens when a site's vision is not explained properly.
Default/Welcome Message – Once we enter the login, users will receive a welcome message from Chat USA mentioning the username and how we can select online users from the list.
Free Chat Room Users – We can hardly see 150 users in these chat rooms. I had high doubts on this free chat after looking at it and I dug deep to see what's more on this site.
Fake/Spam Users – I told ya, the more I encounter this site, the more I found this chat room site has nothing but full of spammy users promotion sex chat rooms and sex chat platforms.
Country Wise Chat Room Members – 90% of the free chat users are from the USA and the rest are from the UK, India, Africa and etc. None of the chat room users have understood the purpose of Chat USA. It's not an anonymous sex chat site.
If you really want to try sex chat, for fuck's sake find the right sex chat sites for that. Chaturbate & LiveJasmin (review at the links) are two of the best sex cam chat sites available especially for adults around the world.
Don't keep your junk dry for long, flog the dong using the adult sex cam chat sites for that. A much better way to spend your time than wasting in a shithole called ChatUSA.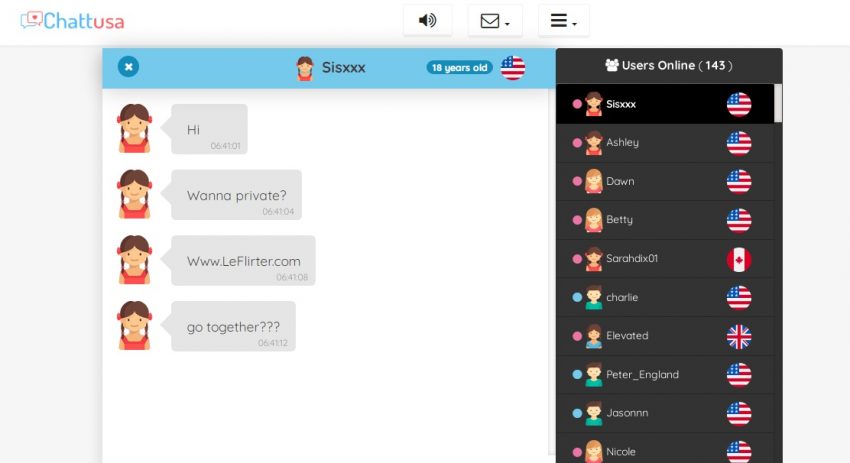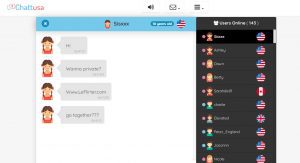 Filter – Users have the option below in the online users to filter them based on gender.
All Users, Men or Women, are the three filter options available.
Not only Chat USA, but we have also disappointed checking out the free chat room site called Chatzy (review at the link).
Things that let down the free chat room Chat USA,
No option to ban spam/abuse users
No option to check any profile information
Too many ads spoiled the user experience
No age verification
Less number of genuine users (Actually ZERO good users)
ChatUSA Findings & Conclusions:
Cam Site Score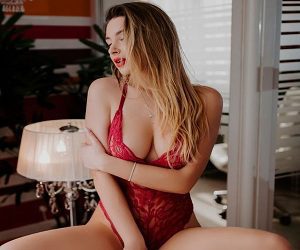 Well, the readers could have predicted the conclusion reading most of the parts about the free chat site Chat USA. It was a huge disappointment and frustration to check this useless site.
Just because of the free chat room tagline, most of the genuine users come to check here but shocked to see the sex chat spammy messages in junks.
It's truly understandable that adult users wanna bop the baloney chatting with hot girls/guys in chat rooms, however, they have mistaken the chat USA as an anonymous sex chat platform.
If you truly wanna have some sex chat experience watching hot babes, my best suggestion is to check out Streamate.com, this is one of the best adult sex cam sites you'll ever see.
With nothing exceptional but spam, Chat USA fails big time. I won't waste any more time on Chat USA spam site and hope you too.