Funyo is merely one of several random chat sites that plague the internet with empty promises of potential friendship and even romance with strangers.
Like Omegle and Chatroulette, the site pairs two random users together and lets them communicate via webcam. As is the custom with most random chat sites, registration is one hundred percent optional, so users don't have to provide any identifying information to the site to start chatting.
Funyo Summary: A No-Go Platform for Hookups!


The excitement of this anonymity can quickly turn into anxiety, however, especially considering that Funyo doesn't limit its matchmaking services to adults alone, but explicitly allows users as young as thirteen years old to participate.
The platform's terms of service dictate that nudity and overt sexual activity is prohibited, but their homepage is incredibly misleading. Funyo claims to offer three modes of play for its users: Random Chat, Chat with Girls, and Gay Chat.
Funyo Features & Highlights:
Random chat is pretty self-explanatory. The user is paired up with a complete stranger, regardless of gender. Nothing fishy there. But the other two modes imply the expectation of flirtation and possibly more, even bemoaning the "hidden fees" associated with cam girls (most of whom perform nude shows and sex shows) specifically in their pitch.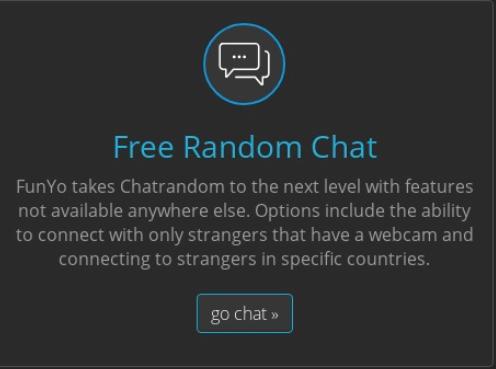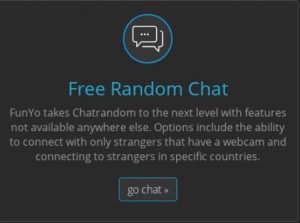 Isn't it strange that a free random chat site aimed at users aged thirteen and up would compare their users to cam girls in the first place?
Luckily, the "Chat with Girls" feature doesn't even seem to be available in the site's latest rendition, which, let's be honest, is probably for the best.
If users do violate Funyo's terms of service, Funyo reportedly admonishes them using "Funyo Technology," a process which moderates and reviews the site for possible transgressions.
Violations can result in account termination, temporary account suspension, and/or content removal from the platform.
Despite these assurances, Funyo Technology isn't psychic. They can't accurately predict user behavior well enough to fully prevent harassment or even hacking from happening, which the platform happily declares in their terms of service to absolve themselves of any guilt regarding incidences on their site.
They can't retain user information that hasn't been provided to them, and malicious users can easily take advantage of this to avoid any major consequences for their behavior.
Don't expect free random chat will work to our expectations at funyo.com because if you do, disappointment guaranteed.
Sites Like Funyo.com:
When law enforcement does get involved, Funyo can provide relevant information such as screenshots, IP addresses, and cookies, but their usefulness in the investigation stops there.
What's even more disconcerting is that users who experience account suspension can fast track their account review and restoration just by paying a simple fee.
Other hookup chat sites like ChatUSA & Chatzy (review at the links) also bites the dust performing below average than the expectations.
Funyo.com Reviews Conclusion: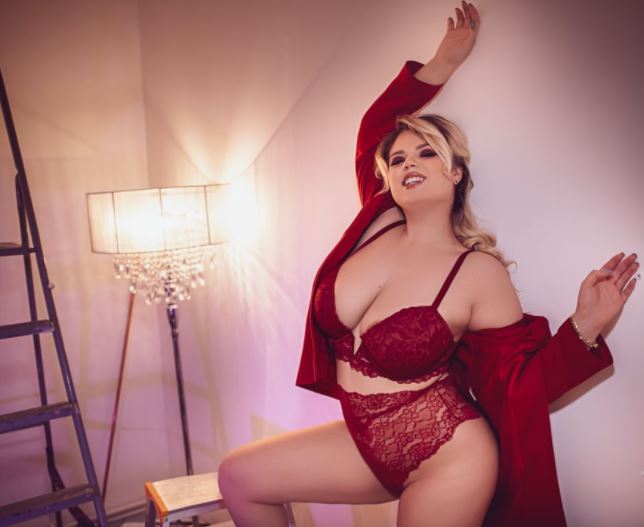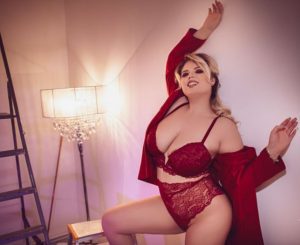 The bottom line is that Funyo is just not a safe platform to be on, especially for young users.
Even though no thirteen year old should be on a platform that casually mentions cam girls on their homepage, Funyo dares to tow the line between a casual matchmaking site and a hookup site with little regard for the content minors could be exposed to.
Like many random chat sites before it, Funyo leans on barely-enforceable community guidelines and retroactive reprimands that do nothing to protect its user base to stay online, all while avoiding liability for an obviously irresponsible site concept.
You can glance into the sexiest cam girls list we prepared and book a private show online with them. After all, funyo is shit and we need to regret the time spent on that.
If you're looking for a hot hookup, Funyo is not the way to go. Check out real cam sites like LiveJasmin.com, Chaturbate, or Streamate instead! Signup is totally free and clothing is optional!